7000 LIGHTNING Non-Ammoniated Wax Stripper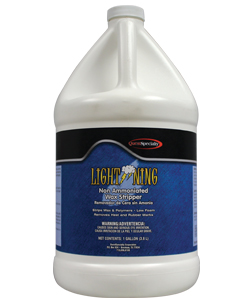 LIGHTNING is a highly concentrated, heavy duty, non-ammoniated wax stripper. Use on terrazzo, concrete and tile floors. Not recommended for use on wood or cork. Removes all types of wax and polymer finishes. Contains strong wetting agents and penetrants which work to strip floors quickly and safely. Low sudsing and odorless.
Dilute with up to 20 parts water to strip most floors. This product is excellent for use in automatic floor scrubbing machines to clean warehouse floors because of its low foaming properties. Dilute with up to 50 parts water for this application.
Gallons (4x1), Drum (55 gal), Pails (5, 6 gal)
H-2, F-0, R-0, P-B