6662 SHINY NICKEL Nickel-Safe Ice Machine Cleaner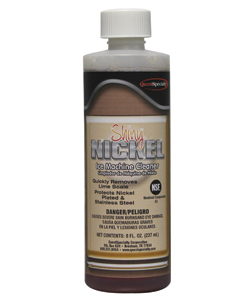 SHINY NICKEL is a non-foaming, non-fuming cleaner that quickly removes scale from stainless steel and nickel-plated steel. Contains special inhibitors to minimize corrosion, while effectively cleaning scale from all metal surfaces.
SHINY NICKEL is USDA approved for use in federally inspected meat and poultry plants. Removes built-up lime scale eliminating the cause of equipment jamming and improves ice quality and capacity.


8 oz (24x1), Gallons (4x1)
H-3, F-0, R-0, P-B
Label - 8 oz.