5960 ReVive Rust Converter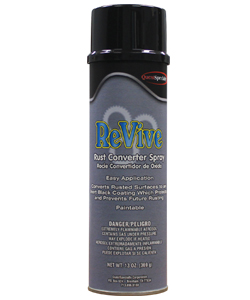 REVIVE Rust Converter Spray is the quick and convenient way to treat rusted surfaces. This product chemically converts the rust to an inert black polymer based coating that prevents future rust from forming. Eliminates the need for brushing, sandblasting or scraping before painting rusted surfaces.
Once treated, surface may be left unpainted or may be painted for improved appearance and protection. May be used on all rusted surfaces. Convenient spray can allows for quick, mess-free application. Combines a unique fast drying carrier with special rust converting agents and a strong polymeric coating.
Rust converter: MIR: 1.1
12 - 20 oz cans/case, 13 oz net weight
H-2, F-4, R-1, P-B