5880 SURROUND Cold Pipe Insulation Spray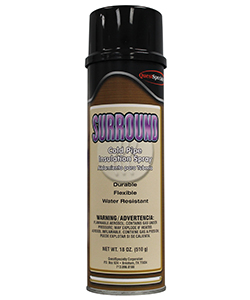 SURROUND is a convenient, ready-to-use spray-on pipe insulator. Dries to a hard, white, durable, stipple-effect coating that can be painted or primed when dry. Prevents sweating and dripping on pipes and other cold surfaces.
Insulates water tanks, gutters, toilet tanks, etc. Repairs wrap-around style insulation. Adheres to galvanized, black iron, steel, brass, copper, and PVC piping. Nonflammable when dry.
12 - 20 oz cans/case, 18 oz net wt
H-2, F-2, R-0, P-B