5380 SLIDE OUT - Dry Silicone Spray Food Grade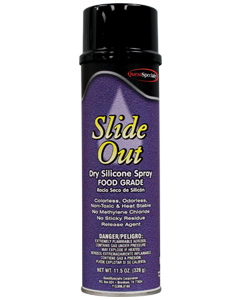 SLIDE OUT Dry Silicone Spray Food Grade is designed to lubricate equipment used in the packaging and processing industry. Slide Out leaves a non-staining, dry, pure silicone film to lubricate moving parts, reducing friction and wear. NSF H-1.
The product is heat stable from -450°F to 450°F. Formulated as a release agent on seals and gaskets of tank closures.
Lubricates all sliding surfaces except those you wish to paint. Excellent on RV slideouts. Use on sticking metal, wood, rubber and plastic. Apply to cutting tables, conveyors, heat sealing equipment and slicing equipment. Waterproofs leather, canvas, rubber and chrome surfaces. Safe on all plastics. Contains no Methylene chloride. Won't melt, freeze, gum or become rancid.
12 - 20 oz cans/case, 11.5 oz net weight
H-1, F-3, R-0, P-B