5270 LINK WISE Semi-Synthetic Chain Lube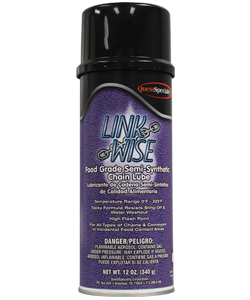 LINK WISE combines synthetic lubricants and mineral oil into a formula that penetrates, lubricates and protects roller drive and conveyor chains.

Deep penetrating foam reduces friction and wear on all types of chains and conveyors operating in food processing areas.

NSF H1 rated for incidental food contact.

Excellent for use on conveyor chains, packaging equipment, food service carts, sliding tracks, filling equipment, food racks, channels, open drives, hoist chains, link and roller assemblies, forklift trucks and many other industrial applications.
• Temperature range 0°F - 325°F
• Tacky formula resists sling-off & water washout
• High flash point
• For all types of chains and conveyors operating in food contact areas
12 - 16 oz. cans/case, 12 oz. net weight
H-1, F-1, R-0, P-A