5240 UPPER CUT Electrical & Electronic Contact Cleaner Degreaser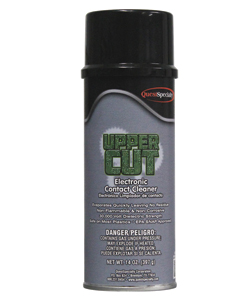 UPPER CUT is a high purity, high dielectric, rapidly evaporating, non-flammable aerosol spray contact and circuit board cleaner. Specially formulated for removing oil, grease, condensation, dust and other particulate matter from sensitive electronic parts.
Quick drying formula will not harm most plastics, paints or rubbers.
This solvent system has tested safe on Neoprene, Buna, Silicone, Butyl and Natural Rubber, Nylon, Hypalon®, PTFE, PVC, Polyurethane, Polystyrene, Polyethylene, Polypropylene, Epoxy and ABS.
This lubricant is great for use on circuit boards, wire terminals, relays, switches, contacts, circuit breakers, tuners, potentiometers, cable ends and receptacles, control panels, motors and other electrical equipment.
12 - 16 oz. cans/case, 14 oz net weight
H-1, F-1, R-0, P-B