5210 MC-FREE DRY MOLY Methylene Chloride-Free Dry Film Lubricant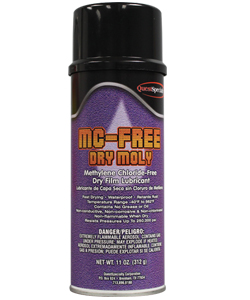 MC-FREE is a methylene chloride free dry film lubricant offering superior, long-lasting performance. Molybdenum and graphite anti-seize dry coating resists dust and abrasive particles. Withstands water, oil, alkalies and most acids. Forms a strong bond to metal—will not wipe off easily.
May be used at higher temperatures—will not carbonize. Formula is more readily accepted by safety directors. May be used as a release agent. Fast drying.
Temperature range -40°F to 662°F. Resists pressures up to 250,000 psi.
12 - 16 oz cans/case, 11 oz net weight
H-2, F-3, R-0, P-B