5120 Quikleen II Solvent Cleaner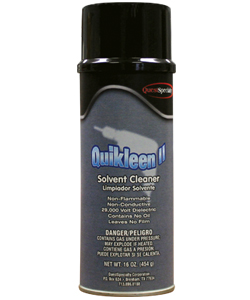 QUIKLEEN II is a quick-drying solvent cleaner. This powerful degreaser is non-flammable and non-conductive. It quickly cleans dirt, grease and oils from parts without leaving a residue. Safe for use on metal parts, circuit boards, electric motors and electronic equipment. Due to VOC regulations, not available for sale in CA, CT, MD, NJ, MA, ME, MI.
* 5130 private label only. 12-20 oz. cans/case. 18 oz. net weight.
12 - 16 oz cans/case, 16 oz net weight
H-2, F-1, R-0, P-C
SDS - 5120

SDS - 5130