5080 TAR BLITZ Soy Solvent Degreaser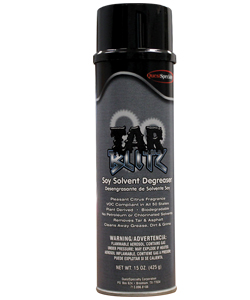 TAR BLITZ quickly removes grease, tar, asphalt, oil, glue, ink, labels and scuff marks. Environmentally friendly formula makes it the ideal product for use where highly toxic products are not suitable. The highly effective solvent is derived from natural soybeans and citrus.
For industrial parts, machinery, tools, molds, dies, engines, concrete floors, printing presses, brick and more. Areas of use include machine shops, aircraft equipment, drilling rigs, industrial plants, office equipment, automotive shops, cleaning and maintenance services, schools and educational services, and health service maintenance.
Pleasant citrus fragrance
Non-flammable
Plant derived
Rinses clean with water
50 state VOC compliant degreaser
Readily biodegradable
Contains no chlorinated or petroleum solvents
12 - 20 oz cans/case, 15 oz net weight
H-1, F-1, R-0, P-B