5000 d-Greaz Organic Solvent Degreaser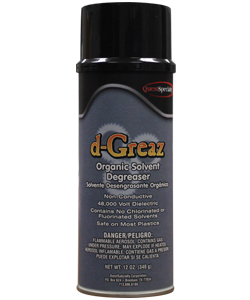 d-GREAZ was developed to give industry a safer way to clean grease, tar, oil and grime from electrical and mechanical equipment.
This formula contains no chlorinated or fluorinated solvents making it an ideal product to use in environmentally conscious situations or where highly toxic products are not suitable. It exhibits a 48,000 volt dielectric strength and is safe on most plastics.
12 - 16 oz cans/case, 12 oz net weight
H-1, F-2, R-0, P-A