4540 ERADICATOR Multi-Purpose
Insect & Bedbug Spray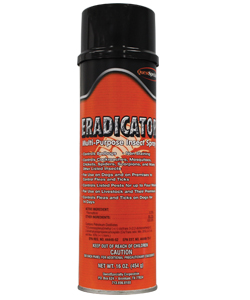 Eradicator is an EPA registered water base aerosol true multi-purpose insect killer. Contains the synthetic pyrethroid permethrin for quick knockdown and up to four weeks residual control of crawling and flying insects.
Non-staining formula controls bedbugs and many other crawling insects. Controls houseflies, mosquitoes and many other flying insects.
For use on dogs and on premises to control fleas and ticks. For use on livestock to control flies, fleas and gnats. Controls garden insects on ornamentals and plants. Authorized for use in animal quarters and milk houses.
12 - 20 oz cans/case, 16 oz net weight
H-1, F-1, R-0, P-A