3600 GERM ASIDE RTU Non-Acid Disinfectant Cleaner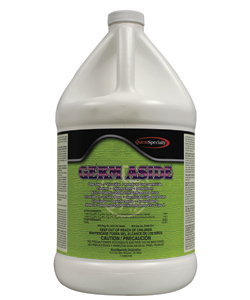 GERM ASIDE is a ready to use disinfectant, virucidal, germicidal, mildewstat, deodorizer, fungicidal and cleaner suitable for hard, non-porous surfaces such as plastic, formica, stainless steel, porcelain, and ceramic tile.
Convenient one-step action. No mixing required. Use to clean tables, floors, telephones, walls, counter tops, garbage cans, tubs, tile, bathmats, locker room benches and more.
Helps control the hazards of cross-contamination and also kills microorganisms that cause odors. Biodegradable. Pleasant floral fragrance.
Quarts (12x1), Gallons (4x1), Drum (55 gal), Pails (5, 6 gal)
H-1, F-0, R-1, P-A