3450 FRESH N CLEAN Total Release Odor Eliminator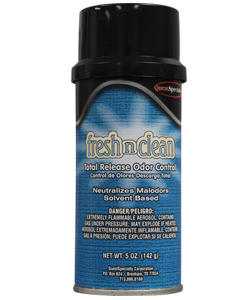 FRESH N CLEAN neutralizes all types of malodors, leaving a pleasant fresh fragrance. Effectively eliminates odors caused by urine, feces, decay,rancidity, animals, fire, tobacco smoke, cooking and mildew.
Each can neutralizes odors in up to 6,000 cu. ft. of space.
This product is not a cover up but chemically destroys the odor molecule, thus eliminating offensive odors.
12 - 6 oz cans/case, 5 ounce net weight
H-1, F-3, R-0, P-A