3295 - RE-FRESH Auto Air Conditioning Freshener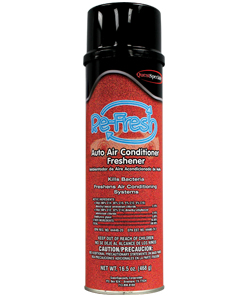 RE-FRESH has been formulated to quickly and effectively remove foul, musty odors from automobile air conditioning systems. It will freshen foul-smelling systems by killing odor-producing organisms. Powerful deodorizers keep the automobile interiors smelling fresh and clean.
Controls odors from mold, mildew, food, ashtrays and fungus. Use in cars, trucks, semi-trailer trucks, buses, RV's, boats, planes and more. For use by car dealerships, car rental businesses, auto repair shops, etc. EPA Registered.
12 – 20 oz. cans per case, 16.5 oz. net weight
H-1, F-2, R-1, P-A