2830 TUFSTUFF Oven and Grill Cleaner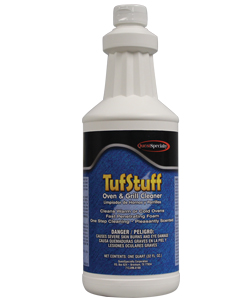 TUFSTUFF is a caustic oven and grill cleaner. Extra thick liquid adheres to all surfaces without running to insure complete penetration and cleaning of cooking surfaces. Restores surfaces to original shine.
Removes even the most stubborn cooked on food, grease, oil or stains. Works by saponification of baked on fats and oils and by dissolving the carbon. Can be used on ovens, grills, pots, pans and non-aluminum barbecue grills. Spray on and wipe off. Can be used on warm or cold ovens.
Quarts (12x1), Gallons (4x1), Drum (55 gal), Pails (5, 6 gal)
H-3, F-0, R-1, P-B