2350 TUFSTUFF Oven & Grill Cleaner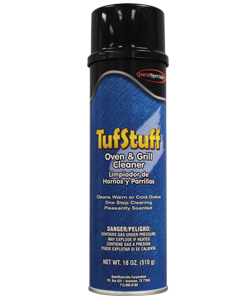 TUFSTUFF is a potassium hydroxide based product designed to clean ovens, non-aluminum grills, cooking pots and pans.
This clinging gel formulation adheres to all surfaces without running, insuring complete penetration and cleaning of cooking surfaces. It will restore surfaces to their original shine.
This product removes even the most stubborn cooked on food, grease, oil or stains. Has a pleasant citrus fragrance and can be used on both hot or cold ovens.
12 - 20 oz cans/case, 18 oz net weight
H-3, F-1, R-1, P-B