2300 ENZO MAGIC Enzyme Stain & Odor Eliminator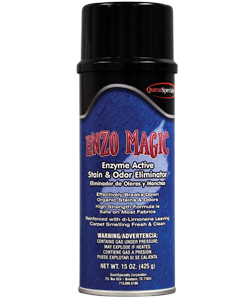 ENZO MAGIC is a concentrated blend of enzymes and d-limonene formulated to quickly break down organic stains and odors caused by blood, urine, feces, vomit and most foods.
Leaves carpets smelling fresh and clean. This product will not harm most fabrics, but it should still be tested for color fastness prior to use.
12 - 16 oz cans/case, 15 oz net weight
H-1, F-1, R-0, P-A