2290 BREAKDOWN Active Bacteria Odor Eliminator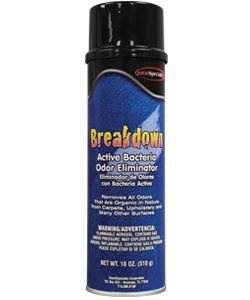 BREAKDOWN is an active bacteria specially designed for easy application on carpets and upholstery to eliminate odors that are organic in nature.
Effectively counteracts pet and body odors left behind on carpets and in fabric. It can also be used in kennels, bathrooms, trash receptacles and kitchen areas. The unique inverted valve provides easy application.
12 - 20 oz cans/case, 18 oz net wt.
H-0, F-1, R-0, P-A