2230 TOP Chalkboard Cleaner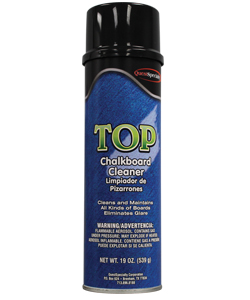 TOP is a water based product specially formulated to clean all types of chalkboards, including the modern mark and wipe use boards of today.
Its clinging foam makes cleaning vertical surfaces a breeze. Does not leave a film.
A combination of solvents, surfactants, and emulsifiers in a water base are joined together to produce this excellent formula.
12 - 20 oz cans/case, 19 oz net weight
H-1, F-1, R-1, P-A