2170 GERM AWAY Foaming Germicidal Cleaner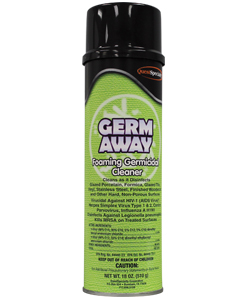 GERM AWAY is an EPA registered foaming germicidal cleaner. This water based aerosol combines butyl, surfactants and emulsifiers with a quaternary germicide to provide heavy duty cleaning of many areas. Safe for use on all bathroom surfaces. Will not harm chrome or metal surfaces.
Virucidal against HIV-1 (AIDS Virus) and Herpes Simplex Type 1 & 2. Kills Staphylococcus aureus, Pseudomonas aeruginosa, Salmonella enterica, mold, mildew and fungus.
12 - 20 oz cans/case, 18 oz net weight
H-1, F-0, R-1, P-A