2160 SLEEK Beeswax & Mink Oil Furniture Polish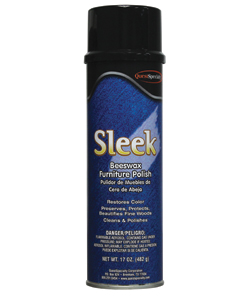 SLEEK is a beeswax and mink oil base polish. Cleans away dust, fingerprints, stains and smudges from all types of wood surfaces. Restores color and high luster to fine woods without the rubbing required with a paste wax.
Eliminates small scratches and blemishes. Replaces essential oils to any natural or treated wood surface.
12 - 20 oz cans/case, 17 oz net weight
H-1, F-1, R-1, P-A