8540 PROTEK Vinyl and Rubber Protectant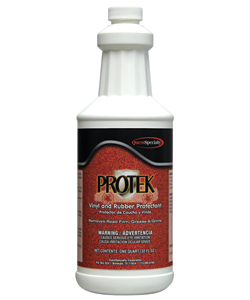 PROTEK cleans, restores and protects vinyl and rubber surfaces. Prevents drying, cracking, hardening and fading from exposure to sun, water, weather and other harmful elements.
Use to protect car interiors, tires, bumpers, seals, outdoor furniture, upholstery and more.
Can also be used on chrome, stainless steel, acrylic and brass. Note: Prior to using on leather, test in an inconspicuous area.
Quarts (12/case), Drums (55 gal)
H-1, F-0, R-0, P-A