8260 VROOM Starting Fluid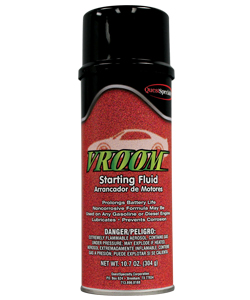 VROOM is designed to aid gasoline and diesel engines with quick and easy starting power in cold, wet or freezing weather. Prevents excessive battery drain.
After starting, continues to work as a corrosion inhibitor and upper cylinder lubricant. Note: Do not use this product on glow plugs.
12 - 16 oz cans/case, 10.7 oz net weight
H-2, F-4, R-2, P-B