8220 CLINCH Battery Protectant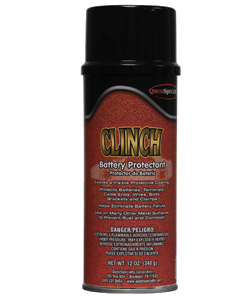 CLINCH is a light misting, purple coating designed to prevent rust, corrosion and battery failure.
Provides a long-term protection when applied to battery terminals, cable ends, wires, bolts, brackets, clamps and other metal components.
One application is effective for up to 6 months. Proper use keeps batteries clean, prolongs life and helps prevent terminal contact failures. Every new battery installation and service should be completed with an application of CLINCH.
Also, great for rust prevention on a variety of other metal surfaces. The
distinctive color shows where protection is working. Use on all batteries whether in or out of storage.
For use on automotive batteries, cables, construction equipment, forklifts, golf carts, electrical connectors, trucks, marine equipment, boats, lawn mowers and other metal surfaces.
Leaves a purple visible protective coating
Prolongs life of battery and related components—helps eliminate battery failure
Use on many other metal surfaces to prevent rust and corrosion
12 - 20 oz cans/case, 13 oz net weight
H-1, F-3, R-0, P-B