8070 Pad Kleen Spray Degreaser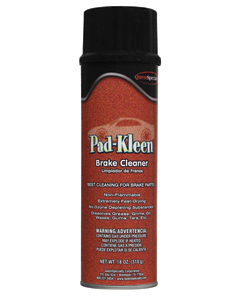 PAD KLEEN Spray Degreaser removes grease and tough grime from any surface. Non-corrosive to metals, has low toxicity (contains no carbon tetrachloride) and is not a fire hazard. Dries fast and clean without residue. Will not short motors, generators or electrical equipment.
For refrigeration and air conditioning units and parts, engines of all types, large and small electrical motors, outboard motors, magnetos, generators, electrical equipment and contacts, kitchen exhaust fans and vents, small power and hand tools, and brake parts. Can also be used on rugs, carpets, upholstery and clothing. Test in an inconspicuous area prior to use on textiles. Due to VOC regulations, 8070 aerosol is not available for sale in CA, CT, MD, NJ, MA, ME, MI.
Also available in 15 and 30 lb. pressurized cylinders (6642). Due to VOC regulations, 6642 pressurized cylinders are not available for sale in California.
12 - 20 oz cans/case, 18 oz net weight
H-2, F-0, R-0, P-B