8050 SHINE ON - Tire Shine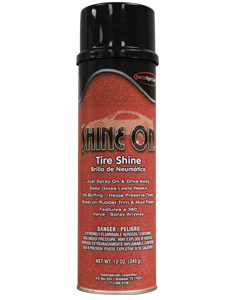 SHINE ON gives dull, dry-looking tires new life. Leaves an incredible, wet-looking shine that lasts through multiple washes. Keeps new tires looking their best and rejuvenates older tires to a like-new, deep luster. So easy to apply, just spray on and walk away—no buffing required. Can sprays from any angle—even upside down.
SHINE ON keeps tires looking blacker longer while preventing cracking, browning and premature aging. For use on automobiles, motorcycles, recreational vehicles, airplanes and more. Also great for trim, mud flaps and other rubber surfaces. Areas of use include automobile dealers, detail shops, car washes, fleet maintenance, airports, repair shops and RV dealers.
12 - 20 oz cans per case, 12 oz net weight
H-2, F-3, R-0, P-B