8000 DE-ICE - Frost and Ice Remover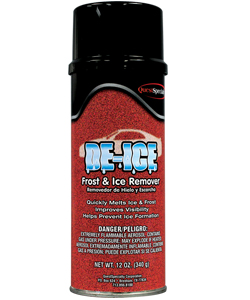 DE-ICE quickly melts ice, frost and snow from windshields, headlights, windows, steps, door locks, ignition locks, trunk locks, and equipment.
DE-ICE is a fast, simple way to thaw ice and frost. Helps prevent fogging when applied to inside of window surfaces. Improves visibility by preventing ice from buildup once applied. Improves traction of tires on extra thin ice. Will prevent ice formation for hours if used in advance.
12 - 16 oz cans/case, 12 oz net weight
H-3, F-3, R-1, P-B