6570 EXPRESS Wipes Beat-It 25% DEET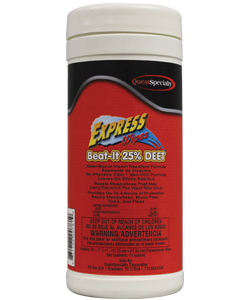 EXPRESS WIPES BEAT-IT Insect Repellent is a water-based non-VOC product. Formulated to repel biting insects for up to 4 hours. Repels bloodsucking insect pests such as mosquitoes, black flies, fleas, ticks, chiggers, and sand flies.
Convenient, easy-to-use pop-up wipes allow quick and thorough application to skin, hair, and clothing for maximum protection. Contains DEET, the most effective biting-pest repellent on the market.
40 premoistened towels per container, 6 containers per case.
H-1, F-0, R-0, P-A