6490 EXPRESS WIPES Sheen Glass Cleaner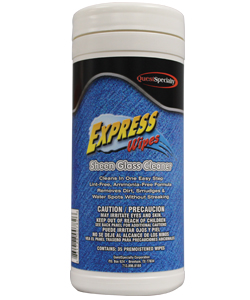 EXPRESS Wipes Sheen Glass Cleaner premoistened wipes clean in one easy step. Lint-free, ammonia-free formula removes dirt, smudges, water spots without streaking. Simply tear off a wipe, clean surface, and discard.
No mess, no fuss. Removes grease, oil, fingerprints, smoke film and other soils from all glass surfaces. Leaves a dazzling shine without residue. Will not streak or leave a sticky film. Contains a special fogging agent. Safe for use on almost all surfaces including tinted and colored windows.
35 premoistened towels per container, 6 containers per case
H-1, F-1, R-0, P-A