6410 RESTORE Rust Converter and Protective Coating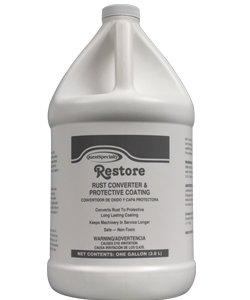 RESTORE is a rust converter and protective coating that performs two operations at one time. First, rust is converted from iron oxide to ferrous oxide, a black organic complex. Then, a clear acrylic coating is formed. The surface can be left as is or painted over using latex or oil based paint.
The coating formed by the product is sufficient to last for years without painting. Can virtually be used on all rusted surfaces. Apply this ready-to-use product with a brush or swab. Temperature range is 0°F to 250°F for the finished film. Do not store at 32°F or below.
Quarts (12x1), Gallons (4x1), Drums (55 gal), Pails (5, 6 gal)
H-1, F-0, R-0, P-B