6360 TRAILERBRITE Aluminum Brightener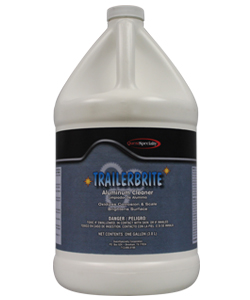 TRAILERBRITE is a hydrofluoric acid based aluminum cleaner and brightener. Highly concentrated. Powerful. Contains a blend of acids, detergents and corrosion inhibitors that prevent acids from attacking metal surfaces. Removes oxidation, corrosion and scale. Leaves surface bright and shiny.
Dilutes with up to 20 parts water. Work from bottom to top to prevent streaking. Specifically designed for use on aluminum and stainless steel. Do not use on glass or aluminum alloys.
Gallons (4x1), Drum (55 20 gal), Pails (5, 6 gal)
H-3, F-0, R-1, P-D