6008 HI POINT Industrial Degreaser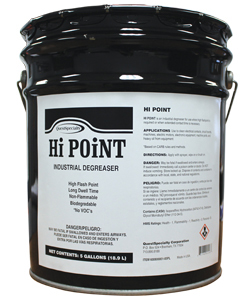 HI POINT is an industrial degreaser for use where high flash point is required or when extended contact time is necessary. Use to clean electrical contacts, circuit boards, machines, electric motors, electronic equipment, machine ports, and heavy oil from equipment.
Long dwell time
High flash point
Non-flammable
Biodegradable
No VOC's (based on CARB rules and methods)

5 or 6 gallon pails; 55 gallon drums
H-1, F-1, R-0, P-B.