6006 UNPLUG Fast Evaporating Industrial Degreaser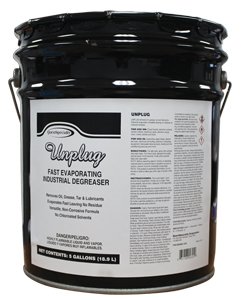 UNPLUG removes oil, grease, tar and lubricants. Solvents evaporate completely leaving no residues on cleaned surfaces.
For use on circuit boards, electrical contacts, electric motors, machinery parts, electronic equipment, molds, textiles and more. For use in automotive repair shops, electric services, electrical contracting, electronic computing equipment, fabricated metal products, heating and air conditioning services and more.
Due to VOC regulations, not available for sale in CA, CT, MD, PA, NJ, OH, MA, ME, MI, NY, DE, VA, DC, NH, IL, IN, UT.
5 gallon pails; 55 gallon drums
H-1, F-3, R-0, P-B.