5850 FUSION MAX General Purpose Web Adhesive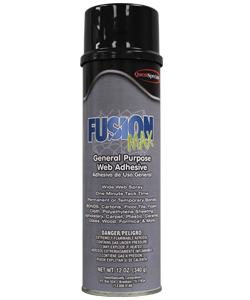 FUSION MAX is a wide web, high strength pressure sensitive spray adhesive specially formulated to bond fiberglass insulation, urethane, rubber sheet, duct board and bubble foil type insulation to sheet metal.
It creates both permanent and temporary bonds on many surfaces. Excellent for porous, uneven or smooth surfaces. Waterproof, flexible, transparent, non-staining adhesive that sets quickly.
It effectively bonds other surfaces such as carpeting, upholstery, cartons, floor tile, cloth, carpet, polyethylene sheeting, ceramic, glass, wood, Formica®, leather, plastics, foam, etc. Cleans up with mineral spirits.
Areas of use include printers, industrial plants, shipping departments, schools, construction areas, auto upholstery repair shops and furniture manufacturers.
12 – 20 oz cans/case, 12 oz net weight
H-2, F-3, R-0, P-B