5830 SAFE BET Multi-Purpose, Penetrating Lithium Spray Lubricant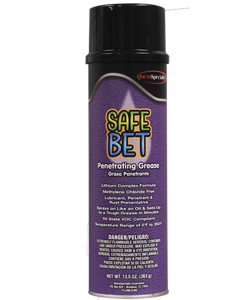 SAFE BET is a multi-purpose lubricant, penetrant and rust preventative that changes from a fluid to become a tough, protective greaser in minutes. Ideal for hard to reach areas on all door hardware and operator drive mechanisms.
Once grease has set up it will outlast any regular oil or silicone. Areas of use include hinges, operators, rollers, open gears,track, roller chain drives, springs, tools, cable and screw type drives. 50 state VOC compliant.
12 - 20 oz cans/case, 13.5 oz net weight
H-1, F-3, R-0, P-B