5810 Ultra-Tac High Pressure Penetrating Lubricant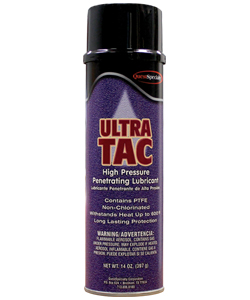 ULTRA-TAC is especially formulated to dispense as an oil-like lubricant designed to penetrate and lubricate. ULTRA TAC then sets up as a viscous, high impact grease, adding protection and heavy lubrication to the treated area. The unique formula contains PTFE which remains on surface, leaving a protective coating between lubrication periods.
For use in garages, machine shops, industrial plants, construction sites, oil rigs, electronic repair shops, marinas and automotive repair shops.
12 – 20 oz. cans per case, 14 oz. net weight
H-1, F-3, R-0, P-B