5790 BIG RED Non-Melt Spray Grease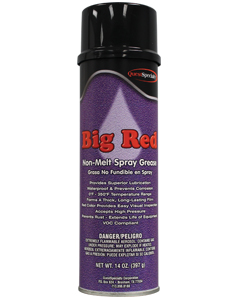 BIG RED is a cured lubricant that withstands heat to 350°F, moisture, acids, high pressure and is highly rust resistant. This 50 state VOC compliant formula provides superior lubrication while forming a thick, long-lasting film to prevent future corrosion. A high pressure additive reduces wear and prolongs operational life of all machinery. Temperatures above 350°F may require periodic reapplication.
This lubricant is great for use on chains, winches, conveyors, gears, cables, tools, hinges, bushings, pins, levers and rollers. For use in all areas of industrial maintenance.
12 - 20 oz. cans/case, 14 oz net weight
H-1, F-3, R-0, P-B