5660 MICRO-DRY PTFE Dry Lubricant & Release Agent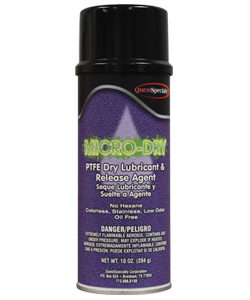 MICRO-DRY is a no mess, non-staining dry lubricant. The low odor, colorless formula is non-oily but slicker than silicone and graphite. Excellent anti-stick properties for an effective release on die casts and injection molds.
Contains an extremely fine polytetrafluoroethylene powder, creating a lubricant film effective over a wide temperature range (-100°F to 500°F). Contains no Hexane. Excellent for use on hinges, gears, metal extrusions, axles, pulleys, bushings, munitions, locks and catches, synthetic filters, machine parts, cord, twine or rope, chains, paper, glass, leather and elastomers. Use as a release agent on conveyor belts, chutes and skids, industrial blenders, bins and spray booths.
12 - 16 oz cans/case, 10 oz net weight
H-1, F-3, R-0, P-B