5420 GEAR LUBE EF - Open Gear Lubricant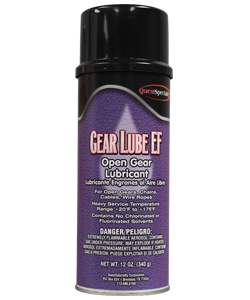 GEAR LUBE EF is a solid film, highly viscous lubricant for use on gears, chains, cables, wire ropes, sprockets, industrial machinery and heavy construction equipment. It protects against rust and corrosion by repelling water from surfaces.
This thick, tacky fluid stays on the gear where it is needed and has excellent stretching characteristics that allow surfaces to be completely covered with lubricant.
This extends the life of machinery, reduces down time and maintenance. It is effective in temperatures up to 175° F plus. This product contains no chlorinated or fluorinated solvents.
12 - 16 oz cans/case, 12 oz net weight
H-1, F-3, R-0, P-B