5330 GENESIS Penetrating Lubricant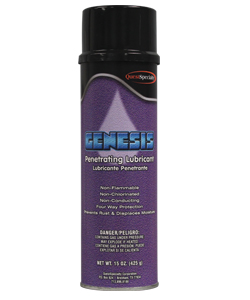 GENESIS Penetrating Lubricant will loosen dirt and scale from painted and plated surfaces. Remove loosened scale and spray again to cover surface.
Liberal application will loosen threads, tightly fitted parts, sliding and rotating parts, bolts, hinges and pins which have been "frozen" by corrosion.
The formula will protect against renewed corrosion. Is a powerful, multiple-action protective shield against the harmful effects of moisture and corrosion. It protects electrical gear, metal and other surfaces from deterioration by displacing water and moisture and sealing all surfaces with a complete molecular film.
It preserves equipment, thus reducing repair and maintenance costs. Also lubricates, never becomes dry, brittle or hard. Protects the properties of insulating substances and does away with wicking. The conductivity of commutators and contacts is protected by the formula. Can be used on either dry or wet surfaces. To ensure adequate protection, periodic checks should be made to determine the need for reapplication.
For use in machine shops, factories, assembly plants, electronics repair shops, air conditioning repair, auto body shops, locksmiths, auto mechanic shops, oil rigs.
Non-Flammable, Non-Conductive & Non-Chlorinated
Four Way Protection
Prevents Rust & Displaces Moisture
12 - 20 oz cans/case, 15 oz net weight
H-1, F-1, R-O, P-A