5300 LOOSE SCREW Lubricant & Penetrant with PTFE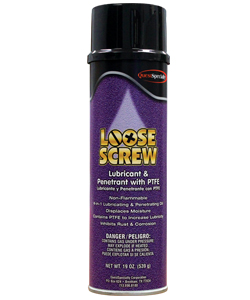 LOOSE SCREW is a non-flammable, 4-in-1 formula that penetrates, lubricates, displaces moisture and resists corrosion.
Displaces water and moisture from electrical equipment such as contact points and automotive distributors, machinery parts, guns and equipment. Fortified with PTFE. Contains no ozone depleters. Conforms to Military Specifications MIL-C-23411 for corrosion prevention.
This lubricant is great for use on motors, wire cable, rusted parts, ignition systems, machine parts, door hinges, locks, nuts and bolts and refrigeration equipment.
Used by factories, truck lines, delivery services, transit systems, schools, machine shops, service stations, airlines, air maintenance shops, industrial plants, oil rigs, hotels/motels and general industries.
12 - 20 oz. cans/case, 19 oz net weight
H-2, F-1, R-0, P-C