5280 PEN EASE Food Grade Penetrating Oil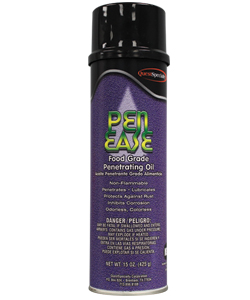 PEN EASE Food Grade Penetrating Oil is designed for use as a penetrating oil for applications requiring a product which meets NSF H1 requirements.
It is used to loosen and free hard to remove nuts, bolts, screws, etc. This formulation is also an excellent rust inhibitor.
It meets the requirements for incidental food contact and is safe for all metal surfaces and most plastics. PEN EASE comes with a pinpoint
spray extension applicator to reach the most difficult areas and to extend the distance it can be sprayed.
It provides high-performance penetrating lubrication while maintaining food-grade integrity. A high percentage of rust inhibitors also makes this an excellent H1 spraydown oil to help eliminate rust after pressure washing or steam cleaning of equipment.
12 - 20 oz. cans/case, 15 oz net weight
H-1, F-0, R-0, P-A