5260 MAIN EVENT Food Surface Cleaner Degreaser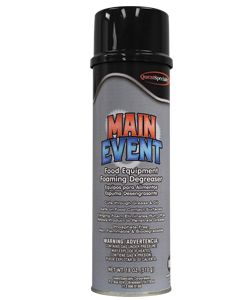 MAIN EVENT is a water-based foaming degreaser that is safe for use on food contact surfaces and suitable for use in food handling and processing areas.
Removes fats, oils, cooking grease, and protein residues from all washable surfaces in kitchens and food processing areas.
Great for cleaning ceramic tile, concrete, terrazzo, tables, equipment, walls and more. The unique formula eliminates oxidation odors and clings to vertical surfaces, making clean-up fast and efficient.
Safe on plexiglas, formica, aluminum, stainless steel, painted metals, glass and plastics. Removes heavy accumulations of grease from chains & cables, industrial parts and manufacturing equipment. NSF rated A1.
12 - 20 oz. cans/case, 18 oz net weight
H-1, F-1, R-1, P-B