5250 LEFT HOOK Electronic Cleaner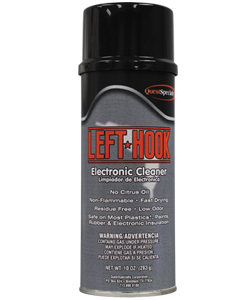 LEFT HOOK is a high purity, high dielectric, rapidly evaporating, non-flammable spray specially formulated for removing oil, grease, condensation and other contaminants from sophisticated electronic parts. Ideal for removing grease and dirt from sensitive electronics, televisions and telephone equipment.

*Quick drying formula will not harm Neoprene, Buna, Silicone, Butyl, Natural Rubber, Hypalon, PTFE, Styrene, Polystrene, Polyethylene, Polypropylene, Epoxy, ABS, Nylon, PVC and Polyurethane.
For use on circuit boards, terminals, relays, switches, contacts, circuit breakers, tuners, control panels, motors and other electronic equipment.
No Citrus Oil
Non-Flammable
Fast Drying
Residue Free
Safe on Most Plastics*, Paints, Rubber & Electronic Insulation
Low Odor
12 - 16 oz cans/case, 10 oz net weight
H-1, F-1, R-1, P-B