5200 Crash Heavy Duty Foam Degreaser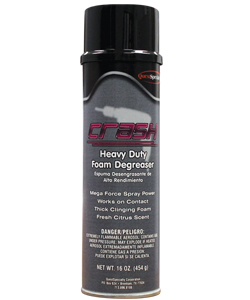 CRASH Heavy Duty Foam Degreaser blasts a powerful stream spray deep into grease, grime and oil. The ultra-dense, fast-breaking foam allows CRASH to begin working immediately and allows extended contact time on soiled surfaces.
Natural citrus plus grease dissolving agents and detergents provide the ultimate cleaning capabilities. Fresh citrus fragrance.
12 - 20 oz cans/case, 16 oz net weight
H-1, F-1, R-0, P-A