5180 KICK OFF Safety Solvent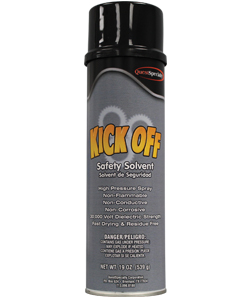 KICK OFF is a high powered, non-flammable, non-conductive solvent that dissolves grease and rinses away dirt and grime from hard surfaces without injury to working parts.
Contains an acceptable replacement for 1,1,1 trichloroethane under the EPA SNAP program.
Contains no CFC's. Featuring a 30,000 volt dielectric strength combined with non-flammability makes this an exceptional degreaser safe for use on electric motors, generators, relays and control panels while equipment is in operation.
Dries fast and residue free. No flash point. Cleaning is quick and simple with the powerful flushing action of the solvent without the danger of injury to working parts.
Excellent for use on electric motors, bearings, gears, gas, water and electric meters, pipe threads, machined parts. For use by downhole tool companies, wireline companies, electrical pump companies, machine shops, oilfield services companies, pipe yards.
12 - 20 oz cans per case, 19 oz net weight
H-2, F-1, R-0, P-B