5160 ELECTRO-CLEAN Energized Electrical Equipment Cleaner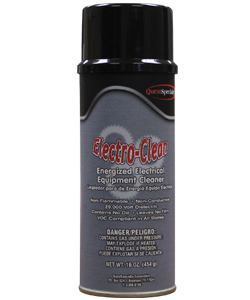 This product is a highly concentrated solvent designed to remove dirt, grease, oil and grime from energized electrical equipment such as electric motors, armatures, relays, electric panels, generators and similar equipment. This product is non-flammable and non-conductive to 29,000 volts making it safe for use on electrical equipment while still in use. Quick dry time means relubrication of parts can be done shortly after cleaning.
Dries residue free and is corrosion inhibited for protection of all surfaces. Does not contain any ozone depleting chemicals. Cleaning is quick and simple without the danger of injury to working parts. Ideally suited for use on electric motors even while running, electrical equipment, generators, power tools, etc. Also use on air conditioning, refrigeration and all types of HVAC mechanical equipment.
Energized equipment use only. Not to be used for motorized vehicle maintenance or their parts.
NOTE: Do not use on automatic electronic process control or monitoring systems, computers or data processing equipment. May affect certain plastics. Test before using.
This product is authorized by USDA for use in federally inspected meat and poultry plants.
WARNING: This product contains chemical(s) known to the State of California to cause cancer.
*5170, private label only. 12-20 oz. cans/case, 18 oz. net weight.
12 - 16 oz cans/case, 16 oz net weight
H-2, F-1, R-0, P-C
SDS - 5160

SDS - 5170