5050 A.F.D. Citrus-Based Water Soluble Degreaser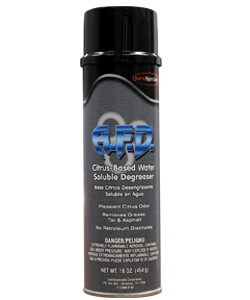 A.F.D. is a high pressure, water soluble degreaser to flush away grease, tar and asphalt from hard surfaces. Contains no petroleum distillates.
Degrease trucks, remove printer's ink, tire marks, soap scum, decals and adhesives, clean motors and equipment, de-tar vehicles, loosen chewing gum and candle wax from hard surfaces, clean fuel oil deposits from metal surfaces. Also use to clean and polish stainless steel and other metals.
Areas of use include: Petroleum industry areas, sewage plants, service stations, garbage trucks, auto detailers, automotive plants, theaters, locker rooms, restrooms, schools, restaurants, office buildings, apartments, nursing homes, hospitals, commissaries.
12-20 oz. cans/case, 16 oz. net weight
H-1, F-2, R-0, P-B