4640 DOUBLE TROUBLE Ready-To-Use Insecticide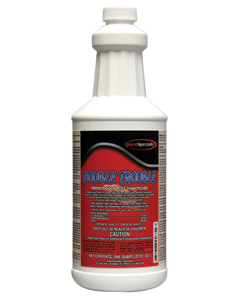 DOUBLE TROUBLE is an semi-gelled, water-based, ready-to-use insecticide for indoor and outdoor use. Contains deltamethrin to provide quick killing action and a residual effect for up to 16 weeks.
After application, odor dissipates. For use in homes, garages, and non-food areas of motels, hotels, institutions, warehouses, restaurants and food processing plants.
Kills Roaches, Ants and Fleas on contact. Kills Aphids, Bed Bugs, Mealy Bugs, Lace Bugs, Thrips, Leafminers and Mites.
Can be used indoors as a crack and crevice spray to control ants and roaches and sprayed on carpeting to kill fleas and ticks. For use outdoors to kill flies, mosquitoes and moths.
May be used in and around horse stables and on house plants and ornamental plants. Not for use on plants grown for sale or other commercial use.
Quarts (12x1), Gallons (4x1), Drum (55 gal), Pails (5, 6 gal)
H-1, F-0, R-0, P-A